News
Wool Slippers – Research Shows Wearing Comfortable Shoes Increases Productivity
Nov 01, 2022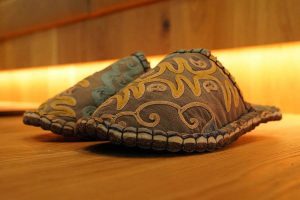 After a hard day of work, you come home, take off your shoes, and finally settle down to relax before starting the next day's grind. As soon as you prop your feet you realize "wow, my feet hurt." We've all been there. Whether you're wearing uncomfortable high heels or flats that make your feet sweat, at the end of the day – most shoes aren't comfortable.
What if I told you, not only do comfy wool slippers feel great, but they also may improve your productivity?
The Connection Between Comfort and Productivity
Dr. Jacqueline Vischer, a professor in the Department of Environmental Design at the University of Montreal, created a model for work environments ranking comfort by ascending order of the physical, functional, and psychological.
Similar to Maslow's Hierarchy of Needs, "Dr. Vischer theorizes before individuals can strive for psychological needs, fundamental physiological necessities must be satisfied first." Vischer's model suggests that addressing physical comfort has a direct and immediate impact on productivity.
When it comes to the workplace, comfort levels not only reflect a state of relaxation, they also represent conditions free from pain. Combined, these two elements create an environment poised for optimal productivity. In fact, studies have shown that employees who experience a comfortable work environment are 25% more productive than uncomfortable employees. By improving basic personal comforts, such as temperature, lighting, and dress codes – employers can boost productivity.
Wool Slippers – Comfort Meets Style
Comfortable and durable, each pair of handcrafted Woolenstocks slippers is perfect for workday wear. Stitched with love and precise attention to detail by Himalayan artisans, wool slippers blend a time-honored tradition with modern form and function.
–  Retains shape – The dense fibers in wool always return to size. It won't stretch over time. No matter how often you wear them, your felt slippers will always retain their shape.
–  Perfect for any climate – When most people think of wool, they think of colder climates. However, wool is ideal for any climate or temperature! Wool stays cool in the summer and warm in the winter. You can literally wear them all day at work, and your feet will remain comfy and cozy.
–  Comfortable – As soon as you step into your wool slippers or boots, your feet will feel the difference. Sustainably crafted and socially conscientious, our colorful wool creations are the perfect addition to provide comfort and relief to help you power through your workday.
Woolenstocks
At Woolenstocks, our slippers start with the best materials, continue with time-honored design, and culminates with a finished product that not only looks amazing but also feels amazing.
As soon as you step into your Woolenstocks, your feet will feel the difference! So let's bring comfort back to the workplace! We look forward to making your next pair of Woolenstocks.
Be sure to check out our latest Fire Sale. For a limited time, you can save up to 50-60% off of our handcrafted wool slippers and boots!