The Story Behind Woolenstocks
When you wear your Woolenstocks, there's a story in every stitch.
Our first story came from the Himalayas. Tired from trekking,
Woogo sought healing for his painful, blistered feet. He came
across a tribe dancing in their village. Each wore a pair of beautiful
slippers – the most colourful Woogo had ever seen.
Now, Woolenstocks brings unique stories from all over the world.
Every pair is crafted with love, time and skill to give you comfort
and restore you – ready to dance again.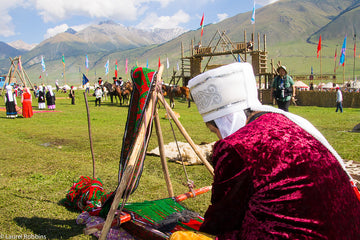 Our philosophy
Real quality is worth waiting for.
It takes 40 hours of love and attention to embroider a pair of
Woolenstocks. Yet the designs, which blend ancient traditions with
modern forms, have taken hundreds of years to evolve.
We value the time it takes to create something special.
It takes time, but also talent. We know the women who make your
Woolenstocks, and we know the difference you've made to their
lives.
Supporting Female Artisans Around the World
"If I met you," says Chinara, aged 30, who designs Woolenstocks
in Bishkek, Kyrgyzstan, "I'd ask you if my slippers are comfortable
when you walk in them. I'd ask you: 'How do they make you feel?'"
It's the talent and craftsmanship of women like Chinara that make
your Woolenstocks unique. We want to thank them, by helping
other women from poorer parts of the world to improve their lives.
When you wear Woolenstocks, you're helping women and girls to
get an education, start a business and provide for their families.
We work with Find Your Feet in remote areas of Africa and Asia,
helping families to grow enough food and find long-term solutions
to poverty.
We believe that making a difference – even on a small scale –
helps to build societies and make everyone's lives better.
We are proud to support local factories in remote regions to empower their growth and development.In return, these factories hire
all female artisans, empowering them to provide valuable income for their families to find long-term solutions to poverty.